My Ebike Upgrades
After using my ebike for one year as stock, I noticed a dramatic decrease in range, so these are My Ebike Upgrades.
It used to give me 2 hours of driving time and then it was giving me only 1 hour.
So i had a look under the hood, i found no fault and came to the conclusion this was the stock lead acid batteries at fault.
I then looked into finding a replacment, in my research i found that lithium-ion / Li-ion battery can catch fire or explode for a number of reasons so i settled on lithium iron phosphate / LiFePO4 / LFP battery instead.
I searched the market but the LifePO4 batteries were very expensive, so i sourced used LifePO4 batteries locally, this cost me 60000rs for 24 pieces for 50Ah 3.2v cells.

Started building my battery pack after watching some youtube videos on how to, now my Ebike drives around for 3 hours without a recharge, i also added a DC 125v 63A circuit breaker for protection and theft prevention.
Also i purchased a 72v 5A charger, as the stock 72v 2A charger was taking all night to charge, with the 5A charger it takes only 6 hours.
Soon after this, i upgraded the headlight for better visability in the dark and rain.
Picture:
I also installed an Amp meter to understand how my battery is being used and the power consuption.
Also while i was doing this i installed a USB fast charger so my mobile phone could be charged on the go.
I further upgraded the Transformer under the seat from a 15A to a 20A for extra power for the lights, amp meter and USB charger.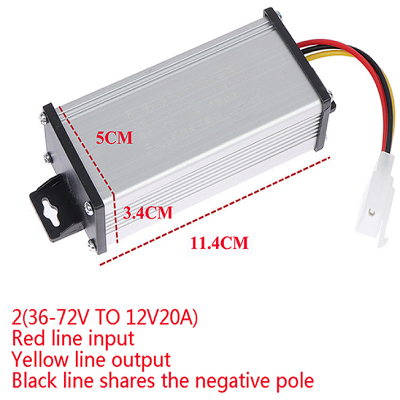 A storage area was need for my helmet and shopping so i also installed a YBR Back Carrier and Hooks on either side and a bottle holder.
Picture:
After a year and a half using the stock accelerator and gear changer, they started malfuntioning.
So i got new ones so instead of twist gears, i now have switch buttons.
Soon after this, my back break pads wore out, and i had to change them, it was a hassle finding them in the local market too.
Then one day driving, i hit a big pot hole and the bike wouldent start so tested and changed the Hall Sensors in the motor.
After a further 6 months of driving it and sometimes giving lifts to others, i noticed the controller would sometimes heat up. Resulting in a shut down to cool its self off, the load on the controller got too much and the controler burnt out.
So i ordered a 3000w controller capable of 72v 50A to the motor instead of the stock 2000w.
So now i have more speed and i dont take a second person with me, plus the controller does not heat up so much.
Whats Next:
Its been 2 years now and im looking to increase my battery to 100Ah LifePO4, if and when i can find a good price locally. Becasuse importing is out of the question as Custom Duty in Pakistan has hit the ceiling.
I have purchased a 72V 10A charger, which will arrive soon and this will lower the charging time to only 3 hours.
Furthermore, i want to have extra padding on the seat and install my new indicators i have already purchased.
The ignition has a handle lock funtion witch is starting to give way so i have purchased a new ignition also, just need to find time to install it.
So to finish this post about my ebike, ive pretty much changed or upgraded everything on my E bike except the frame and wheels.
Everything i have puchased for this bike has been from china through Aliexpress.com.
If you would ask me, do i regret buying it for 2 Lack from Lahor? i would say Absolutly Not!
Absolutly loved every moment i've had on this, i loved learning from it.
I believe this technology could save our planet if we had abundant electricity.
Thank god batteries are getting better, everything about it can be customised at will.
I've only been stranded 3 times and it was no problem, just chuck it on a Suzuki and take it home for a fix.
If you learn to understand your battery it will never leave you stranded.
It's my daily comuter. 🙂
Im looking for a way to get a 72v 4000w hub motor so i can make my own custom bike from an old heavy bike frame.
Battery
Circuit breaker
Charger
Head light
Amp meter
USB fast charger
Transformer
Back Carrier
Hooks
bottle holder
Accelerator & gear changer
Break pads
Hall Sensors
Controller